I know it came as quite a shock that we ended up attending San Diego Comic-Con this year, and it was for us as well.  We had an associate company we have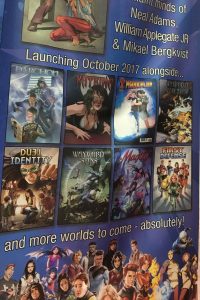 worked with (and will continue to) who needed our help, and so because I found a way to make it with no cost to the company, I decided to go.
It was so last minute, this meant driving the van from ORLANDO to SDCC packed with stuff and two of my kids in tow to help out!
The booth spot itself could not have been better positioned, as it was a corner booth directly in front of the center doors (section C).  And, of course, I wanted to take advantage of the opportunity.
And that's exactly what I did.
As we have announced, we have a comics line coming out this October, and this afforded us the ability to promote not only to consumers, but many of the nation's TOP retailers.  I was able to SHOW them the comics as well as illustrate the demand for them, due to the lines of fans and consumers we had.
Markiplier fans were obviously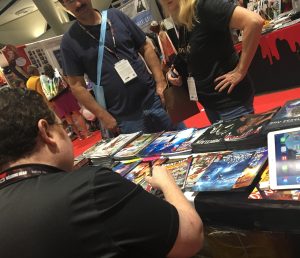 there, but what retailers and onlookers could readily see is that there was a big audience for our other titles as well.  We sold as much Wayward Legends books, as anything else, and even sold box loads of the leftovers from our FCBD for our other titles launching as well.
Darchon, Duel Identity, Wayward Sons, First Daughter, Magika, and the rest were all snapped up quickly.  It was amazing to see people who picked up the books early in the week returning to report how much they loved the books and couldn't wait for the ongoing series!
We were quick to explain to the Markiplier fans as well, the tie-in to our other series, and the #1 response was almost unanimously, "COOL!"  Many of these kids had never really read comics before, so this was precisely our goal… creating a new audience for the genre itself.
And of course, there were plenty of other meetings we were able to have.  Some of the deals we have been working on sought us out before, during and after the show each day to continue our discussions and negotiations.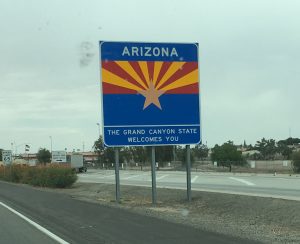 This was by far a great trip, and since no cost to the company, overwhelmingly our most profitable venture to SDCC in years.
Now, I have to sign off, as it is time to jump back on the road again for the next legs of the grueling trip home.  Watch for more announcements we have in the hopper as we can reveal them!  Exciting times ahead!