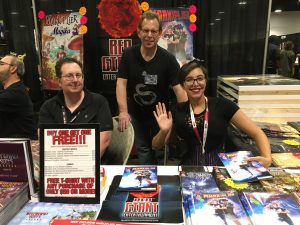 ORLANDO, FL—October 4, 2017 – Hot on the heels of successful promotional appearances at Comic-Con International: San Diego and MegaCon: Tampa Bay, Red Giant Entertainment Inc. (REDG), an innovative Intellectual Property company specializing in high quality characters and content for use in a variety of media and entertainment, today announced that they have added New York Comic Con to their promotional schedule, with several others in the landing stages.
Over the next few weeks, Red Giant – under their new Absolute Comics publishing banner – will release several titles into comics shops worldwide:  Darchon #1 (horror adventure); Katrina #1 (horror); Markiplier #1 (co-written by and starring the massive YouTube star), Wayward Legends #1 (adventure fantasy, in development as a major motion picture); and The Villain (its first creator-owned line property co-created by and with cover art by legendary artist Neal Adams).  Titles are scheduled to ship to Diamond Comic Distributors late this month for November 2017 in-store sales.
"As we reached out to fans and retailers alike, we realized our upcoming titles needed a bigger impact into the psyche of both store owners and their customer," explained Benny Powell, author/creator of the first wave of properties.  "The listings in Diamond Previews needed more support.  So we're making booth presentations and conducting Absolute publishing panels at as many events as we can possibly do."
Red Giant will also increase marketing on social media, including Facebook, Instagram, and Red Giant's own website www.redgiantentertainment.com.
New York Comic Con is Thursday through Sunday, October 5 – 8, at the Javitz Convention Center.
Red Giant provides news and updates at the following online locations: http://redgiantentertainment.com  and on https://www.facebook.com/RedGiantEntertainment
ABOUT RED GIANT ENTERTAINMENT INC.
Red Giant Entertainment Inc. (OTC: REDG) is a Florida corporation that specializes in intellectual property (IP) development for multiple media platforms and transmedia propagation. The cornerstone of this development is based around the more than three dozen online and print graphic novel properties in various stages of production as well as the cast of thousands of characters from those series. These properties have a readership that numbers in the millions globally. Some of these properties are actively in development into other media such as movies, video games, television, novels, toys, apparel, applications, etc. through either direct production or licensing agreements.
Forward Looking Statements
This press release may contain "forward-looking statements." Any statements that are not statements of historical fact, including but not limited to statements containing the words "believes," "plans," "anticipates," "expects," "look forward," "estimates" and similar expressions, should be considered to be forward-looking statements. Actual results may differ materially from those indicated by such forward-looking statements as a result of various important factors, to include acquisition, production, marketing, distribution, competition with related patent, trademark and license issues involving contractual obligations and concessions. The Company does not assume any obligation to update any forward-looking statements to reflect events or circumstances after the date of this press release, except as required by applicable law. The Company files annual, quarterly and current reports, proxy and information statements and other information with the Securities and Exchange Commission. This press release should be read in conjunction with all of the reports that the Company has previously filed with the Securities and Exchange Commission for financial and other information about it. The references to the websites http://redgiantentertainment.com and www.facebook.com have been provided as a convenience, and the information contained on such websites is not incorporated by reference into this press release.
Contact:
Company
Red Giant Entertainment Inc.
info@redgiantentertainment.com
http://RedGiantEntertainment.com